Vegan Winter Soups RECIPES!

Best Vegan Nutritionist In Morris County NJ.
It is 3 pm here in NJ on a chilly January's winter day. I just finished eating a delicious mushroom homemade hot soup. I am so blessed to have TRANSITION TO VEGAN, DECADES AGO. And humble when my dieters call me: best vegan nutritionist in Morris County NJ. There is nothing better than hot winter yummy recipes. Like hot soups and desserts. Soups have been one of my favorite meals since last winter. I always feel restored, reheated, and relaxed after eating these 5 soups listed on a series of posts I created, on JFZ microblog. Below is the first recipe. Leave your thoughts below please . As a vegan I beseech every one of you; vegan and non vegan, to put attention to the salt and sugar consumption in your soups. There is nothing recondite about being or becoming a vegan, when learn how to do it right, and with conviction. These soups are low sodium, and high in antioxidants, thus,you would thereupon see the difference and hopefully will as well: restore, reheated and relaxed!
Vegan Mushroom Udon Soup:
1 tbspoon seasame oil
Onion quartered
3 garlic cloves minced
1 tsp chilli paste
10 fresh mushrooms sliced
6 fresh shiitake mushrooms
4 cups fresh water
1 bay leaf
1 hand size combu
two tbspoon vegetable broth powder
2 tbspoon soy sauce
3 packets udon noodles
Directions:
-Heat up oil in a large pan and add the onion coocked for a minute, on medium heat, add garlic, chili paste, and fresh mushrooms, and cook for another minute or two.
Add water and remaining ingredients, except the noodles, cook with a lid for 40 minutes on load.
Before the soup is finished cook the noodles, according to the directions listed on the package. Put the noodles in a bowl and pour the mushroom broth on top.
You can decorate and garnish with whatever you please. Use green onion, vegan egg, more mushrooms etc. ENJOY YOUR HOT SOUP!
RECIPE #2. OF OUR SERIES OF FIVE YUMMY WINTER SOUPS, IS COMING SOON!!
Check our vegan for pets blog by clicking here!
For information about or nutritional counseling programs for vegan or vegetarians visit our page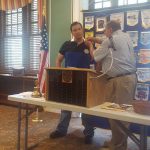 By Jose Fuentes/JOSE FIT ZONE FOUNDER
This blog is made for all of you fitness and wellness professionals to show your greatness! Shine and share your ideas. Become a prolific voice and let others hear you!Join me on a mission of an agile performance oriented fitness culture across the globe. My mission is to improve capabilities where the whole world achieve long term results with my company's technology Shapes R In LLC. Please also download the tornado fitness mobile app. Ii believe sharing is caring. Ii want every individual aiming to help others to achieve health homeostasis, should be here and become a voice! As a result, the world can become highly energized and eager to take their goals to the next level. My app is devoted to offering the highest quality learning experiences to individuals aiming to improve their lifestyle. This blog is free and full with practical and easy-to-use information. As well as, diets, motivational tips, educational articles, bodybuilding, Holistic Doctor's health advice, psychology of weight loss STRATEGIES. Written by pros! And most of all for everyone. From the regular "Joe Gym person" to seniors and children. We have designed a method that provides only the most practical and scientifically based health and fitness training! Which can be directly applied to "real life" experiences. It is with this dedication that Jjose Fit Zone is committed to being the lifelong exercise and the number one personalized training resource to the entire SOCIAL MEDIA WORLD. and beyond.Copyright © 2017 JOSE FIT ZONE By Jose Fuentes