Montville NJ Vegan Nutritionist
This stew was given on a meal plan I created for a dieter who was looking in her town (Montville NJ_) for a plant based dietitian. Montville NJ Vegan Nutritionist. Was not common to find in her area, so she was excited when we have our first meeting. Her folate and magnesium levels were very low. And she needed to boost her metabolism. Her diet was hitherto low in essential nutrients, and, as a vegan, I knew it could cause a drop in energy and hemoglobin production. Thus, I started to add this delicious stew in her diet, mainly at dinner times. ENJOY RECIPE:
Ingredients:
Bay leaf
Carrots
Stalks celery
Cloves garlic
Green bell pepper
Cup lean lentils
1 onion
1 Tbspoon of oregano
1 quarter of vegetable broth
1/2 cup tomato sauce
1 tbspoon of tumeric
1 tbspoon garlic
1 plantain sliced in cubes
Preparation
Heat pot in low temperature. Wait approximately 45 minutes. Until the lentils become soft. Use hymalayan salt if needed. One bag of lentils should yield 4 servings.
Please visit our vegan page if you need information on our plant based diet programs, for health and weight loss!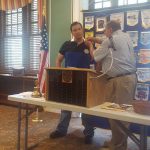 By Jose Fuentes/JOSE FIT ZONE FOUNDER
This blog is made for all of you fitness and wellness professionals to show your greatness! Shine and share your ideas. Become a prolific voice and let others hear you!Join me on a mission of an agile performance oriented fitness culture across the globe. My mission is to improve capabilities where the whole world achieve long term results with my company's technology Shapes R In LLC. Please also download the tornado fitness mobile app. Ii believe sharing is caring. Ii want every individual aiming to help others to achieve health homeostasis, should be here and become a voice! As a result, the world can become highly energized and eager to take their goals to the next level. My app is devoted to offering the highest quality learning experiences to individuals aiming to improve their lifestyle. This blog is free and full with practical and easy-to-use information. As well as, diets, motivational tips, educational articles, bodybuilding, Holistic Doctor's health advice, psychology of weight loss STRATEGIES. Written by pros! And most of all for everyone. From the regular "Joe Gym person" to seniors and children. We have designed a method that provides only the most practical and scientifically based health and fitness training! Which can be directly applied to "real life" experiences. It is with this dedication that Jjose Fit Zone is committed to being the lifelong exercise and the number one personalized training resource to the entire SOCIAL MEDIA WORLD. and beyond.Copyright © 2017 JOSE FIT ZONE By Jose Fuentes