Lemon Water & Weight Loss Benefits!

It's been a while since I wrote about lemon water benefits. Its amazing power to remove toxins and detox your entire body has made an impact on my client Steve. Who in just 3 weeks lost over 20 lbs!
Lemon water has made my client Steve (see pic attached) metabolism faster, but also has helped him drop water retention. Lemon water, has aid in his digestion process but slowing it down; which has helped him to absorb the nutrients better.
The enzymes in the lemon juice have stimulated liver functions which,aids in the elimination of wastes in the body!
Lemon water has also suppress Steve's appetite, and can do the same to yours! Therefore, you will have fewer cravings while doing it!
Further more, Lemon juice is a strong form of vitamin C; which improves your immune systems, neutralizes free radicals associated with aging and disease!
To make lemon water; simply at the juice of a squeezed lemon or 2; into an 8 oz glass of water.
But take it one step further!
Add cucumbers to your lemon water. The taste of cucumbers and lemon water go well together. And the health benefits are outstanding with the addition of the cucumbers. Cucumber are packed with potassium making them a natural way to help lower blood pleasure . They also reduce bloat and puffiness, pair with the skin firmness, metabolism boosting lemon water! This zero calorie drink will and make you feel great in no time!
Add this great diuretic to your regimen full of clorophyl and parsley. This premium herb supplement has many other herbs that will help you eliminate fluids while supplying your body with electrolytes. CLICK Here!
This diuretic has been catalyst to Steve's weight loss and can help you as well!
To Your Health!
Jose Fuentes/CN/Blogger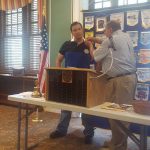 By Jose Fuentes/JOSE FIT ZONE FOUNDER
This blog is made for all of you fitness and wellness professionals to show your greatness! Shine and share your ideas. Become a prolific voice and let others hear you!Join me on a mission of an agile performance oriented fitness culture across the globe. My mission is to improve capabilities where the whole world achieve long term results with my company's technology Shapes R In LLC. Please also download the tornado fitness mobile app. Ii believe sharing is caring. Ii want every individual aiming to help others to achieve health homeostasis, should be here and become a voice! As a result, the world can become highly energized and eager to take their goals to the next level. My app is devoted to offering the highest quality learning experiences to individuals aiming to improve their lifestyle. This blog is free and full with practical and easy-to-use information. As well as, diets, motivational tips, educational articles, bodybuilding, Holistic Doctor's health advice, psychology of weight loss STRATEGIES. Written by pros! And most of all for everyone. From the regular "Joe Gym person" to seniors and children. We have designed a method that provides only the most practical and scientifically based health and fitness training! Which can be directly applied to "real life" experiences. It is with this dedication that Jjose Fit Zone is committed to being the lifelong exercise and the number one personalized training resource to the entire SOCIAL MEDIA WORLD. and beyond.Copyright © 2017 JOSE FIT ZONE By Jose Fuentes