EYES THE FORGOTTEN MUSCLES

Five Exercises To Improve Your Vision In Five Days!
By Jose Fuentes/CN/CPT/MS
I went for my coffee as usual before my first session few days ago. I glanced at the corner of my local coffee shop, and, saw a small crew, sitting at the couch texting, some drinking coffee, some having breakfast. Then comeback after an hour or two to get water, and, the same folks are still on the phone. What about summer time. You go for a  long walk and saw someone sitting on a bench texting. Then comeback to get your car and the same person is at the same  spot, still texting. You look at them at their countenance says it all. They are not in this world.
Well, here is the deal according to a report by the Wall Street Journal on May the 15th.  Two thousand six hundred seventeen times a day.  That is how often the average person taps, pokes, pinches or swipes their personal phone.
It all adds up to about 2 hours and and 25 minutes, according to a study by mobile app research firm discount inc. And the worse part is that a good chunk of that comes at work time.
Not only smart phones. "in my view" hurt productivity at work" but they are adding more to an already sedentary lifestyle  for Americans.  Are we becoming phone addicts?.
I feel that for many people who never found time to work out, this could be a wake up call. If  they use part of that time going for walks, runs, or simply do a little bit of both. Notwithstanding all the new studies and stories of eye damage when staring  at cell phones too long. Many folks still don't care. For example, the extended use of digital devices like your cell phone can cause digital eye strain. According to the American Academy Of Optometry. Symptoms can include, blurry vision, trouble focusing on one thing, red, tired or dried eyes, as well as headaches.
Here are my 5 top exercises to improve your vision and strengthen to your eyes in as little as 5 days:
1- Hands on eyes exercise. This is a 2, 3 minute exercise, put your palms on your eyes for few minutes, while your eyes are closed, just relax and take away your mind, from your daily routine. Don't push your palms to hard. Gently keep them on your eyes for 3 minutes.
2-Blink your eyes more often. When working with technology and digital devices, blinking become a lost practice. Blinking is a great work out for tired and itchy eyes. Simply, blink your eyes 20 times and you will feel a relaxing sensation immediately!.
3- Rolling your eyes. Roll your eyes in a clockwise direction. Do slowly, but try to stretch your eyes as much as you can. I like to do this for 3 minutes, and feel my concentration has improved since.
4-Read letters far,  for 3 minutes. Doesn't have to be a book. Just 2, 3 paragraphs at 10 inches  away from your body. This will indeed, strengthen the muscles of your eyes and will improve your vision.
5-The left and right exercise. Draw letter A and B in 2 different sheets. Stick papers on right and left side of your wall. Count to 100 times. A, B, A,B. This will improve your side vision dramatically and will help your overall body's reflexes.
These exercises will help you develop eye power and decrease the risk of eye problems. Please share article with friends and family. And leave comments below.
To your health!
Jose Fuentes/CN/CPT/MS/Blogger
PS-This past blog may interest you as well. WHY YOUR WEEKEND BUZZ IS MAKING YOU GAIN WEIGH!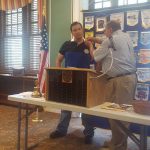 By Jose Fuentes/JOSE FIT ZONE FOUNDER
This blog is made for all of you fitness and wellness professionals to show your greatness! Shine and share your ideas. Become a prolific voice and let others hear you!Join me on a mission of an agile performance oriented fitness culture across the globe. My mission is to improve capabilities where the whole world achieve long term results with my company's technology Shapes R In LLC. Please also download the tornado fitness mobile app. Ii believe sharing is caring. Ii want every individual aiming to help others to achieve health homeostasis, should be here and become a voice! As a result, the world can become highly energized and eager to take their goals to the next level. My app is devoted to offering the highest quality learning experiences to individuals aiming to improve their lifestyle. This blog is free and full with practical and easy-to-use information. As well as, diets, motivational tips, educational articles, bodybuilding, Holistic Doctor's health advice, psychology of weight loss STRATEGIES. Written by pros! And most of all for everyone. From the regular "Joe Gym person" to seniors and children. We have designed a method that provides only the most practical and scientifically based health and fitness training! Which can be directly applied to "real life" experiences. It is with this dedication that Jjose Fit Zone is committed to being the lifelong exercise and the number one personalized training resource to the entire SOCIAL MEDIA WORLD. and beyond.Copyright © 2017 JOSE FIT ZONE By Jose Fuentes