BY Jose Fuentes/Holistic Nutritionist/Blogger/Jose fit zone founder
This is one of my favorite puddings. It has enough calcium, protein, essential fats  and antioxidants. It is a shrewd way to get all the benefits of a weight loss breakfast of snack. And, most of it taste delicious!
This chia pudding could be put in reused baby food jars, small mason jars or even squeeze poaches to be included in school lunches. You can soak nuts or even chocolate or cacao for breakfast. Or delicious low sugar dessert!
Ingredients:
2 cups of Coconut Milk
1/2 cup of chia seeds
1/2 tea spoon vanilla extract
1/4 cup or less maple syrup (or sub any sweetener)
1/4 cinnamon powder
Instructions:
Place all ingredients on blender and blend on high for 2 minutes. Until completely smooth. (Include any added flavors fruit of chocolate; like shown on image)
Pour mixture into a jar or glass container and place in the refrigerator for at least 4 hours or overnight to let gel. Stir or whisk a few times within the first hour to help it gel evenly. I like to to make this at night to have ready for a fast breakfast the next day. It is also great to make in the morning for a delicious pre-made dessert at night.
I LIKE to  add blueberries and sliced mango for extra fiber!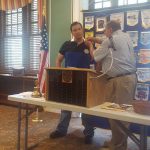 By Jose Fuentes/JOSE FIT ZONE FOUNDER
This blog is made for all of you fitness and wellness professionals to show your greatness! Shine and share your ideas. Become a prolific voice and let others hear you!Join me on a mission of an agile performance oriented fitness culture across the globe. My mission is to improve capabilities where the whole world achieve long term results with my company's technology Shapes R In LLC. Please also download the tornado fitness mobile app. Ii believe sharing is caring. Ii want every individual aiming to help others to achieve health homeostasis, should be here and become a voice! As a result, the world can become highly energized and eager to take their goals to the next level. My app is devoted to offering the highest quality learning experiences to individuals aiming to improve their lifestyle. This blog is free and full with practical and easy-to-use information. As well as, diets, motivational tips, educational articles, bodybuilding, Holistic Doctor's health advice, psychology of weight loss STRATEGIES. Written by pros! And most of all for everyone. From the regular "Joe Gym person" to seniors and children. We have designed a method that provides only the most practical and scientifically based health and fitness training! Which can be directly applied to "real life" experiences. It is with this dedication that Jjose Fit Zone is committed to being the lifelong exercise and the number one personalized training resource to the entire SOCIAL MEDIA WORLD. and beyond.Copyright © 2017 JOSE FIT ZONE By Jose Fuentes